Reagan stops Brennan, heads to regional quarterfinals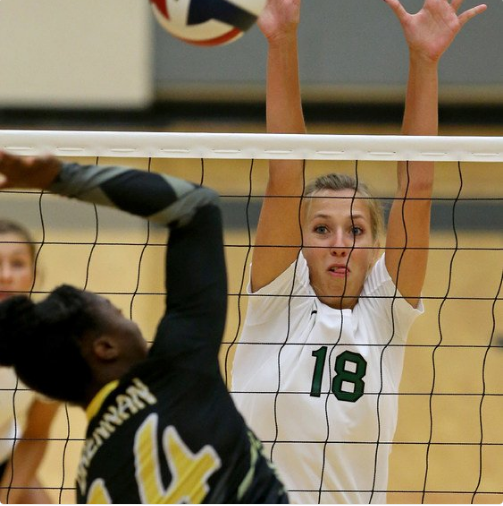 November 5, 2016 – Rattler Volleyball defeated Brennan Friday night in a competitive 5 set match. Terrence Thomas, San Antonio Express News summarized this playoff match. "Camryn Ennis had 13 kills, 28 digs and 25 assists and Elissa Barbosa totaled 19 kills, 22 digs and three blocks as the Rattlers held off Brennan 23-25, 25-20, 25-20, 18-25, 15-2 to advance to the regional quarterfinals for the 11th time in the past 12 seasons. The teams were facing off in the second round for the second year in a row. Unlike in 2015, when Reagan won in a sweep, the Rattlers were pushed to the limit by Brennan, which was paced by Kylexus Block's 18 kills and libero Makenna Hanssen's 39 digs. Izzy De La Rosa had 14 kills and four blocks for Reagan, which had a solid defensive performance with 145 digs and 14 blocks. Twins Kaja Burja and Nika Burja each had 2.5 blocks, while libero Lydia Niebla had 38 digs and Faith Horan had 28."
Thanks to the over 100 students "Rowdy Rattlers" who came and supported their team, compliments of Sharkey's Cuts for Kids and Dr. Armando Niebla at Bandera Family Dental Practice.  The support of the Reagan fans was amazing!
The Rattlers face Austin Westlake on November 8th in the Regional Quarterfinals. Details TBA. Austin Westlake defeated Smithson Valley 24-26, 25-22, 25-17; 19-25, 15-10. Click here for UIL State Volleyball Championship brackets for 6A Regions 2 and 4.
Click here for original article by Terrence Thomas, SA Express News. Photo courtesy of Express News.