2/18/2018-On Friday and Saturday, Reagan Dance traveled to San Marcos to compete in the SMA State Dance Competition.  The Diamond Dancers, Silver Stars and Charmers Pep squad came home with many first places in individual categories which resulted in top honors for the State rankings.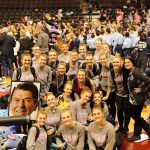 Charmers Pep Squad  ? – STATE CHAMPS!
Silver Stars Drill Team  ? – STATE CHAMPS!
Diamond Dancers  ? – STATE RUNNER UP!
Diamond Dancer Officers  ? – STATE CHAMPIONS
Taylor Bass & Brooke Furse – 1st Place Duet!!
Brooke Lester – 2nd Place Grade 9/10 Soloist!
Emily Kiolbasa- 4th Place Grade 9/10 Soloist!
Francesca Morell – Grade 9/10 Solo Runner Up!
Kendall Cheslock, Amelia Johnson & Caroline Allen – 3rd Place Pep Trio
Thank you to our Coaches, Mrs Val Sisson and Ms Brooke McGilloway
Thank you to the many, many parent volunteers who keep this army moving — WE. ARE. REAGAN!